Rent a Storage Space in 70376 Stuttgart Bad Cannstatt
Rent a Self Storage Unit in Stuttgart Bad Cannstatt Today and Make Room for the Things That Matter
Personal consulting
Available now, flexible durations
All-round service
Parking lot
Are you currently moving and looking for a convenient way to store your belongings? Are your business files piling up, and do you urgently need more storage space? Then you've come to the right place. MyPlace SelfStorage offers you the perfect solution in Stuttgart Bad Cannstatt. Our 1,150 storage units spread over 7 floors, provide more than enough space for your needs. We understand that each customer has individual needs, which is why we provide you with a variety of storage units in different sizes. However, the quality standards regarding security and maintenance are equally high for all units.
Self Storage in Bad Cannstatt: These Are Your Advantages
Simply book one of our storage units at our Stuttgart Bad Cannstatt location online or on-site and benefit from the following advantages:
Video-monitored car storage: Do you want to store a second car, trailer, motorhome, motorcycles, or your vintage cars in a monitored parking space? The secure parking spots at our location are affordable and you can cancel them at a one-week notice.
Extra insurance: Our top priority is to protect your stored items from damage, theft and other harm. To ensure even more security, we offer cost-effective unit insurance that covers damages caused by fire, burglary, vandalism, water damage, and natural disasters.
24/7 outdoor units: At the Stuttgart Bad Cannstatt location, you can rent convenient exterior units, which provide access around the clock.
Renting compact boxes: Our compact 1 m³ boxes are the perfect storage space if you only need to store a few small items.
Drive-in and loading area: Our location features a generously sized drive-in and loading area to ensure smooth and stress-free loading and unloading of your stored goods.
Barrier-free transport: Our Stuttgart Bad Cannstatt location is designed with accessibility in mind, allowing our customer to store their items easily and safely.
Two freight elevators: For quick and comfortable transport, we provide two spacious freight elevators that facilitate the loading and unloading of items. Even large and unwieldy objects can be stored in no time.
Self Storage Costs & Rental Period
Rental is at a fixed price and is billed every four weeks. The costs of our storage compartments vary according to size and availability. Here you will find a general overview of our prices at the Stuttgart Bad Cannstatt location: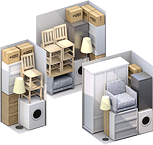 Small, 1-3 m2
from 12,17 EUR per week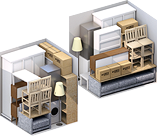 Medium, 3-5 m2
from 30,95 EUR per week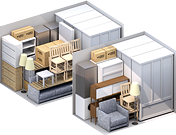 Large, 5-10 m2
from 49,69 EUR per week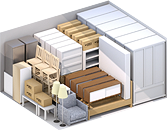 XL, 10-20 m2 only a few available
from 82,19 EUR per week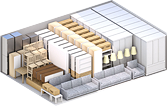 XXL, 20-50 m2
from 273,50 EUR per week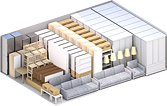 XXXL, >50 m2 currently unavailable
Rental can start at any time. The minimum term is 2 weeks, the remaining term of the lease can be customized to your needs and can be terminated on a weekly basis. We at MyPlace SelfStorage greatly value long-term relationships with our customers and reward the loyalty of our long-term tenants with a discount of -15 % on the annual rent (in case of prepayment).
A detailed list of available warehouse sizes and costs can be found in the next step of our easy booking process.
How to Reach Our Storage Facility in Stuttgart Bad Cannstatt
You can easily reach us at Pragstraße 130 via these public transport lines:
tram U13 (stop: Rosensteinpark stop)
tram U16 (stop: Löwentor/SV Sparkassenversicherung)
If you want to transport your items by car or transport vehicle, we recommend the following route:
Take the B10/B27 towards Pragsattel.
There are no parking fees at our Bad Cannstatt location. You can park directly infront of our location for free. This way, you don't have to search for a suitable parking spot and can start loading and unloading your items immediately.
Opening Hours
The MyPlace SelfStorage facility in Stuttgart Bad Cannstatt is open every day from 06:00 to 22:00. Our convenient exterior units are accessible 24/7.
You can enter the building with your individual access code, which you can set during the booking process.
Our team is available from Monday to Friday from 08:30 to 17:30 and on Saturdays from 09:00 to 13:00 in person, by phone, or by email.
Any Questions?
Feel free to contact our knowledgeable team with any questions you may still have. They will be happy to provide information about our numerous additional services, such as the free package receiving service or additional insurance options for your stored items. If you are unsure about the storage size you need, you can use our practical storage space calculator or contact us by phone for comprehensive advice.
Our services in Stuttgart Bad Cannstatt
Satisfied customers in Stuttgart Bad Cannstatt
from 169 reviews
Sehr guter Service, sehr Hilfsbereit ❗❗ Se6vr Sauber überall ,einfach nur EMPFELENSWERT
Super einfach, Papierkram in Minuten erledigt. Einen großen Dank an Frau Brenner die einen Reibungslosen Ablauf ermöglicht hat.
Show all reviews