Self Storage 14059 Berlin Charlottenburg
Make Room For the Things That Matter and Rent a Self Storage Unit in Berlin Charlottenburg
Personal consulting
Available now, flexible durations
All-round service
Parking lot
Are you looking for a convenient space to keep your tools, books, or files but your home has no attic or basement? Need some extra storage space for your business and goods? Then one of our 1,100 secure, clean and temperature-controlled storage units in Berlin Charlottenburg is the ideal solution!
Self Storage in Berlin Charlottenburg: Discover the Benefits
Simply book one of our storage units at Fürstenbrunner Weg 34 online or on-site and benefit from the following advantages:
Extra insurance: We do our best to keep your stored items safe. To ensure the highest level of safety, we offer cost-effective unit insurance that covers damages caused by fire, burglary, vandalism, water damage, and natural disasters.
24/7 access to outdoor units: Our well-secured outdoor units are accessible to you around the clock, providing maximum flexibility.
Spacious loading area: Our loading area offers plenty of space to load and unload items. You can quickly get your belongings out of and into your car without wasting unnecessary time and energy.
Well-lit, barrier-free building: The building of our Charlottenburg Berlin location is well-lit at all times of day and designed for accessibility, making the transport of items as easy and safe as possible.
Two spacious freight lifts: The location is equipped with two spacious freight elevators that allow you to store and transport heavy and bulky objects without any problems.
Self Storage Costs & Rental Period
Rental is at a fixed price and is billed every four weeks. The costs of our storage compartments vary according to size and availability. Here you will find a general overview of our prices at the Berlin Charlottenburg location: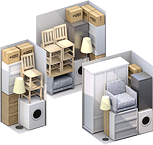 Small, 1-3 m2
from 13,55 EUR per week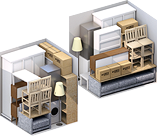 Medium, 3-5 m2 only a few available
from 35,73 EUR per week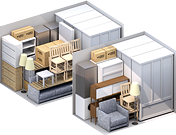 Large, 5-10 m2
from 51,05 EUR per week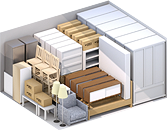 XL, 10-20 m2 only a few available
from 86,22 EUR per week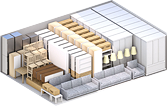 XXL, 20-50 m2 only a few available
from 154,61 EUR per week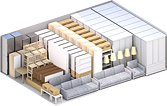 XXXL, >50 m2 currently unavailable
Rental can start at any time. The minimum term is 2 weeks, the remaining term of the lease can be customized to your needs and can be terminated on a weekly basis. We at MyPlace SelfStorage greatly value long-term relationships with our customers and reward the loyalty of our long-term tenants with a discount of -15 % on the annual rent (in case of prepayment).
A detailed list of available warehouse sizes and costs can be found in the next step of our easy booking process.
Directions to Our Storage Facility in Berlin Charlottenburg
You can find us on Fürstenbrunner Weg 34, in the vicinity of several public transport stops. You can reach us via:
bus line 139 (Fürstenbrunner Weg stop)
S-Bahn lines S41/S42/S46 (Westend station) followed by an 8-minute walk
bus lines 309 or M45 (Königin-Elisabeth-Straße/Spandauer Damm stop) followed by a 4-minute walk
If you're transporting your belongings by car or van, the best way to reach us is:
via A100 (Spandauer Damm exit), drive out of the city towards Krankenhaus Westend and turn right into Fürstenbrunner Weg.
You can park your car or van for free at our Berlin Charlottenburg location.
Opening Hours
The MyPlace SelfStorage building in Berlin Charlottenburg is open every day from 06:00 to 22:00. Our practical outdoor units are accessible 24/7.
You can enter the building with your individual access code, which you can set during the booking process.
You can always reach our staff in person, by phone or by e-mail from Monday to Friday from 08:30 to 17:30 and on Saturdays from 09:00 - 13:00.
Do You Have Any Questions?
Do you already know how much space you might need for the amount of stuff you want to store? If not, you can use our storage space calculator to determine the appropriate size for your self-storage unit. Of course, you can also contact us by phone or in person - we are happy to help you figure out the best solution for your needs! Whether you're interested in storage methods, our additional services, or packaging materials, our storage experts can give you detailed information.
Our services in Berlin Charlottenburg
Satisfied customers in Berlin Charlottenburg
from 263 reviews
Freudliche Staff im Selfstore My Place Fürstenbrunner Weg . Schön das es Euch gibt ! Macht weiter so .Wir werden Euch weiterempfehlen ! Danke schön !
Hervorragender Service. Gerne wieder.
Show all reviews