Self storage in
Rent a Self Storage Unit in Berlin Steglitz and Make Room For the Things That Matter.
Personal consulting
Available now, flexible durations
All-round service
Parking lot
Over the years, we tend to accumulate a lot of items, which end up occupying a fair bit of valuable space. But don't worry! At MyPlace SelfStorage Berlin Steglitz, you'll find 550 secure, clean and convenient storage units. Whether you want to store documents, clothing, or furniture, our compartments will help you reclaim space in your hobby room, basement, attic or office.
Self Storage on Körnerstraße: Enjoy the Benefits
We know what counts. That's why, in addition to clean and convenient storage spaces, we offer excellent customer service, numerous benefits, and additional services. Simply book one of our storage units at Körnerstraße 48e online or on-site and enjoy the following benefits:
Video-monitored parking spaces: Do you want to store a second car, trailer, caravan, motorcycles, or vintage cars in a monitored parking space? Find out more about our affordable parking spaces with a 1-week cancellation period at Berlin Steglitz.
Spacious loading area: Thanks to our generous loading area, loading and unloading heavy or bulky items is no longer a stressful ordeal but a quick and easy process.
Barrier-free access routes: Our location in Berlin Steglitz has barrier-free access, allowing all of our customers to easily and safely store their belongings.
Two spacious freight elevators: Two spacious freight elevators make for quick and comfortable transportation. Even large and unwieldy objects can be stored in no time.
Self Storage Costs & Rental Period
Rental is at a fixed price and is billed every four weeks. The costs of our storage compartments vary according to size and availability. Here you will find a general overview of our prices at the Berlin Steglitz location: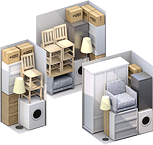 Small, 1-3 m2
from 11,87 EUR per week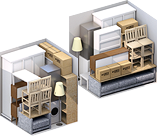 Medium, 3-5 m2
from 27,44 EUR per week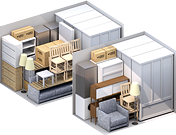 Large, 5-10 m2
from 43,54 EUR per week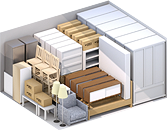 XL, 10-20 m2
from 83,52 EUR per week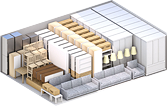 XXL, 20-50 m2 currently unavailable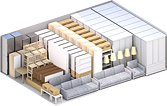 XXXL, >50 m2 currently unavailable
Rental can start at any time. The minimum term is 2 weeks, the remaining term of the lease can be customized to your needs and can be terminated on a weekly basis. We at MyPlace SelfStorage greatly value long-term relationships with our customers and reward the loyalty of our long-term tenants with a discount of -15 % on the annual rent (in case of prepayment).
A detailed list of available warehouse sizes and costs can be found in the next step of our easy booking process.
How to Reach Our Storage Facility in Berlin Steglitz
The location is located on Körnerstraße 48a and is easily accessible by car or via public transportation. If you're using public transport, the best way to reach us is:
5-minute walk from Feuerbachstraße S-Bahn stop
8-minute walk from Walther-Schreiber-Platz subway station
by taking bus lines 181, 186, M48, M76, or M85 to Feuerbachstraße bus stop
If you're arriving by car or van, we recommend the following routes:
From A3, take the Saarstraße exit and continue via Knausstraße to Feuerbachstraße. Make a right turn to continue to Körnerstraße.
From Walther-Schreiber-Platz, drive along Schönebergerstraße and then cross the Feuerbachbrücke to reach us.
From Bergstraße, turn into Körnerstraße at Mercedes-Benz to reach our location.
At our facility, you don't have to worry about parking. Our Körnerstraße location offers convenient and free parking options.
Opening Hours
The MyPlace SelfStorage facility in Berlin Steglitz is open every day from 06:00 to 22:00.
You can enter the building using your individual access code, which you can set during the booking process.
You can contact our team from Monday to Friday from 08:30 to 17:30 and on Saturdays from 09:00 to 13:00 in person, by phone, or via email.
Do You Have Any Questions?
We want to offer you the most stress-free experience possible. That's why our experienced storage professionals are here to assist you with packaging materials, transport, and optimizing your storage space. If you're still unsure about the storage size that suits your personal needs, simply use our convenient storage space calculator or contact us by phone or in person for comprehensive advice.
Our services in Berlin Steglitz
Satisfied customers in Berlin Steglitz
from 281 reviews
Danke, Herr Beyer für Ihre freundliche und kompetente Beratung. Wir haben uns bei Ihnen sehr wohl gefühlt. Empfehlen Sie gerne weiter.
Hier fand ich ein sehr freundliches hilfsbereites Team vor. Bei jeder Frage oder jedem Problem konnte mir geholfen werden. Meine eingelagerten Gegenstände konnte ich beruhigt und sicher einlagern. Vielen herzlichen Dank und alles Gute! Sehr empfehlenswert!
Show all reviews