Self Storage 10559 Berlin Mitte
Make Room For New Things and Rent Your Self Storage Unit in Berlin Mitte Today.
Personal consulting
Available now, flexible durations
All-round service
Parking lot
If you need more space in your home and are looking for the perfect place to store your furniture, tires, clothes, or other items short or long term, you can be sure that your treasures are in good hands with us. At our Berlin Mitte location, we offer around 1,000 secure, clean and convenient storage units in various sizes.
Self Storage in Berlin Mitte: Enjoy the Benefits
We place particular emphasis on ensuring maximum convenience and ease when it comes to storing your items. Simply book one of our storage units in Berlin Mitte online or on-site and benefit from the following advantages:
Rental of compact boxes: Our compact 1 m³ boxes are the perfect storage solution if you only need to store a few small items.
Video-monitored car storage: At the Berlin Mitte location, you can rent secure parking spaces for storing second cars, trailers, motorhomes, motorcycles, and vintage cars.
Generous drive-in and loading area: Our location provides a generously sized drive-in and loading area to ensure smooth and stress-free loading and unloading of your stored goods.
Short, barrier-free transport routes: Our building is designed with accessibility in mind, allowing customers with mobility restrictions to store their belongings easily and safely.
Two spacious freight elevators: The storage facility has two spacious freight elevators that facilitate the loading and unloading of items. This allows you to store and transport even heavy and bulky items without any problems.
Self Storage Costs & Rental Period
Rental is at a fixed price and is billed every four weeks. The costs of our storage compartments vary according to size and availability. Here you will find a general overview of our prices at the Berlin Mitte location: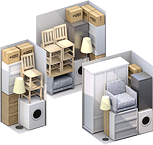 Small, 1-3 m2 only a few available
from 17,05 EUR per week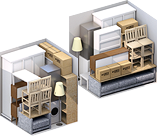 Medium, 3-5 m2 only a few available
from 36,63 EUR per week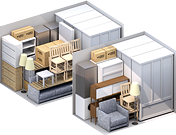 Large, 5-10 m2 only a few available
from 44,76 EUR per week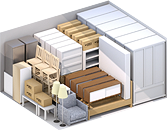 XL, 10-20 m2 currently unavailable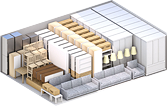 XXL, 20-50 m2 currently unavailable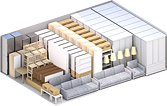 XXXL, >50 m2 currently unavailable
Rental can start at any time. The minimum term is 2 weeks, the remaining term of the lease can be customized to your needs and can be terminated on a weekly basis. We at MyPlace SelfStorage greatly value long-term relationships with our customers and reward the loyalty of our long-term tenants with a discount of -15 % on the annual rent (in case of prepayment).
A detailed list of available warehouse sizes and costs can be found in the next step of our easy booking process.
Directions to the Storage Compartments in Berlin Mitte
You can find us on Ellen-Epstein-Straße 2 and reach your storage unit easily by bus, train or private vehicle. The best ways to reach us via public transport are:
bus line M27 (Quitzowstraße stop)
bus line 123 from the main station (Quitzowstraße stop)
S-Bahn lines S41 or S42 (Beusselstraße stop)
If you are traveling by car or truck, we recommend the following routes:
From the A11 city highway, you can reach us via the Beusselstraße exit.
Coming from the city center, you will find us just after the Fennbrücke.
Not only is the journey to our Berlin Mitte location quick and easy, but also loading and unloading your stored goods is convenient and uncomplicated due to our numerous free parking spaces, which you can use at any time.
Opening Hours
The MyPlace SelfStorage facility in Berlin Mitte is open every day from 06:00 to 22:00.
You can enter the building with your individual access code, which you can set during the booking process.
Our team is available to assist you from Monday to Friday, from 08:30 to 17:30, and on Saturdays from 09:00 to 13:00. You can reach us in person, by phone, or via email.
Any Questions?
Wondering what storage unit size you need? No problem, we're here to help! To get a good initial idea, you can use our convenient storage space calculator or simply contact us by phone or in person for a comprehensive consultation. Our experienced team is always available to provide helpful storage tips and to introduce you to our range of additional services.
Our services in Berlin Mitte
Satisfied customers in Berlin Mitte
from 214 reviews
In Berlin-Mitte: Nach etwa 1,5 Jahren Mietdauer, hatte ich situationsbedingt keinen weiteren Bedarf an Lagerraum. Die Rückabwicklung war völlig unkompliziert. Dank an Herrn Woldt für den tollen Service.?
Sehr saubere, gepflegte Abteile und Atmosphäre, sehr freundlicher, kompetenter und absolut zuvorkommender Service!!!
Show all reviews