Rent Storage Space in 90441 Nürnberg Schweinau
Meet Your Space Needs Today and Store Furniture & More in Nuremberg Schweinau!
Personal consulting
Available now, flexible durations
All-round service
Parking lot
Goods, tools, and files are taking up valuable space in your business? You need more space in your home? Are you looking for a reliable storage solution for personal or business purposes with flexible access? Rent one of our 900 storage units in Nuremberg Schweinau. We excel when it comes to security, cleanliness, convenience, and service!
Self Storage in Nuremberg Schweinau: Enjoy the Benefits
Simply book one of our storage units online or on-siteat the Nuremberg Schweinau location and benefit from the following advantages:
Extra compartment insurance: Our top priority is to protect your stored goods from damage, theft and prying eyes. For this purpose, we offer cost-effective compartment insurance that covers damages from fire, burglary, vandalism, water damage, and natural disasters.
24/7 outdoor units: At the Nuremberg Schweinau location, you can rent practical external units with 24/7 access.
1 m³ compact boxes: Rent XS storage boxes and store small quantities of items for an affordable price.
Spacious loading area: The generous loading allows you to easily load and unload your items without wasting unnecessary time and energy.
Well-lit, short transport routes: At our location in Schweinauer Hauptstraße 72, well-lit and short transport routes allow for safe and quick transport to and from the storage units at all times of day.
Freight lift & car ramps: For easy access and use of your storage space, a freight lift and car ramps to all levels are available at this location.
Self Storage Costs & Rental Period
Rental is at a fixed price and is billed every four weeks. The costs of our storage compartments vary according to size and availability. Here you will find a general overview of our prices at the Nürnberg Schweinau location: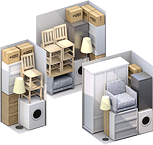 Small, 1-3 m2
from 8,66 EUR per week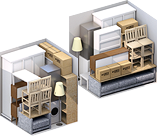 Medium, 3-5 m2 only a few available
from 21,50 EUR per week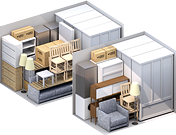 Large, 5-10 m2 only a few available
from 43,50 EUR per week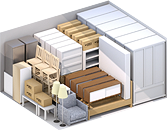 XL, 10-20 m2
from 69,27 EUR per week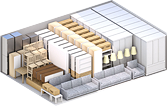 XXL, 20-50 m2 only a few available
from 131,20 EUR per week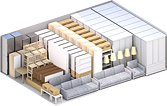 XXXL, >50 m2 currently unavailable
Rental can start at any time. The minimum term is 2 weeks, the remaining term of the lease can be customized to your needs and can be terminated on a weekly basis. We at MyPlace SelfStorage greatly value long-term relationships with our customers and reward the loyalty of our long-term tenants with a discount of -15 % on the annual rent (in case of prepayment).
A detailed list of available warehouse sizes and costs can be found in the next step of our easy booking process.
Directions to our Storage Facility in Nuremberg Schweinau
Our branch is located at Schweinauer Hauptstraße 72. The following public transportation options take you to us:
U2 (Hohe Marter station)
Bus lines 35 or 65 (Hohe Marter stop)
If you choose to transport your items by car or a transport vehicle, the easiest way to reach us is to drive towards the city center from the Fernmeldeturm.
Use the free parking spaces at our location! You can park directly in front of the storage facility and store your belongings with us without having to search for a parking spot beforehand.
Opening Hours
The MyPlace SelfStorage facility in Nuremberg Schweinau is open every day from 06:00 to 22:00. Our outdoor units are available 24/7.
You enter the building using your individual access code, which you can set during the booking process.
Our team is happy to help you out in person, by phone, or email from Monday to Friday from 08:30 to 17:30 and on Saturdays from 09:00 to 13:00.
Any Questions?
Not sure how big your storage unit should be? You can use our storage space calculator for an estimate. Our experienced staff are also available on-site or by phone to assist you in finding the right storage solution. Feel free to also ask about our additional services, such as moving assistance or package.
Our services in Nürnberg Schweinau
Satisfied customers in Nürnberg Schweinau
from 415 reviews
Super Service. Preis okay
Ich bin so froh, dass ich mich für MyPlace entschieden habe. Meine Pakete sind in sicheren Händen und ich kann alles problemlos einlagern. Dazu noch ein faires Preis-Leistungs-Verhältnis. Vielen lieben Dank für den tollen Service!
Show all reviews