Rent Storage Space in 22761 Hamburg Altona
Store Your Belongings in a Storage Unit on Stresemannstraße and Enjoy More Space For New Things!
Personal consulting
Available now, flexible durations
All-round service
Parking lot
On 6 floors, we offer around 900 secure and clean units where you can find plenty of space for books, clothes, files, and more. Our Hamburg Altona location provides you with the opportunity to create more space in your home, office, or workshop, allowing you to benefit from an organised work and home environment.
Self Storage on Stresemannstraße: Your Benefits
You can easily book one of our storage units via the online booking system or on-site at our Hamburg Altona location and take advantage of the following benefits:
Emergency provisions: Our top priority is the security of your stored belongings. Therefore, we offer affordable unit insurance that covers damages caused by fire, burglary, vandalism, water damage, and natural events.
1 m³ compact boxes: Rent practical 1 m³ storage boxes – an affordable option for small quantities of items.
Large loading area: At the Stresemannstraße location, you have plenty of space to load and unload your belongings without stress or time constraints. This way, you won't waste time with complicated transport maneuvers and can quickly and easily store your belongings.
Barrier-free access: Our Hamburg Altona location is equipped with short and barrier-free access routes, allowing all of our customers to store their items easily and safely.
Two spacious freight elevators: The location features two spacious freight elevators that facilitate the loading and unloading of items. This allows you to store and transport heavy and bulky items without any problems.
Self Storage Costs & Rental Period
Rental is at a fixed price and is billed every four weeks. The costs of our storage compartments vary according to size and availability. Here you will find a general overview of our prices at the Hamburg Altona location: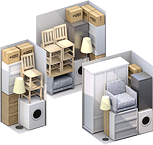 Small, 1-3 m2 only a few available
from 15,95 EUR per week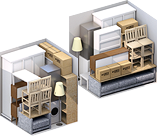 Medium, 3-5 m2 only a few available
from 43,09 EUR per week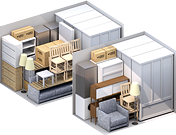 Large, 5-10 m2 only a few available
from 45,75 EUR per week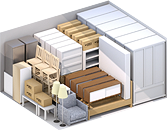 XL, 10-20 m2 only a few available
from 105,25 EUR per week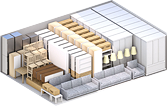 XXL, 20-50 m2 currently unavailable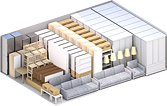 XXXL, >50 m2 currently unavailable
Rental can start at any time. The minimum term is 2 weeks, the remaining term of the lease can be customized to your needs and can be terminated on a weekly basis. We at MyPlace SelfStorage greatly value long-term relationships with our customers and reward the loyalty of our long-term tenants with a discount of -15 % on the annual rent (in case of prepayment).
A detailed list of available warehouse sizes and costs can be found in the next step of our easy booking process.
Directions to Our Hamburg Altona Location
Our location on Stresemannstraße 290 is easily accessible via public transport. Here's how you can reach your storage unit:
From Altona train station, take bus line 2 (stop: Schützenstraße Süd) or
Take S-Bahn line 21 (stop: Diebsteich)
For those arriving by car or van, the most convenient route is as follows:
Take the Bahrenfeld exit from the Elbtunnel, turn right onto Von-Sauer-Straße, and continue straight onto Stresemannstraße. Our location will be on the right side of the street, just before the railway underpass.
At our Hamburg Altona location, you can park free of charge. This allows you to load and unload your belongings directly in front of our facility without the hassle of searching for a parking space first.
Opening Hours
The MyPlace SelfStorage facility on Stresemannstraße is open every day from 06:00 to 22:00.
You can enter the building with your individual access code, which you can set during the booking process.
Our team is available Monday to Friday from 08:30 to 17:30 and Saturdays from 09:00 to 13:00, in person, by phone, or via email.
Any Questions?
We are happy to answer all your questions over the phone or in person during a consultation at our location. Get tips on proper storage and take advantage of our numerous additional services, from package receiving to moving assistance. Whether you are using the storage space for personal or business purposes, whether you need to store your entire household or just a few boxes, we have the right storage unit size for you. Use our storage space calculator to find the appropriate unit size for your needs in just a few clicks.
Our services in Hamburg Altona
Satisfied customers in Hamburg Altona
from 193 reviews
MyPlace ist sauber und einfach zu benutzen. Die Mitarbeiter sind sehr nett und hilfreich.
Toller Service, saubere Lokation mit direkter Parkplatz Anbindung. To Preis Leistung
Show all reviews