Self Storage 13409 Berlin Reinickendorf
Create More Space For What Is Important to You With a Self Storage Unit in Berlin Reinickendorf.
Personal consulting
Available now, flexible durations
All-round service
Parking lot
Are your drawers and closets bursting at the seams? Do you need more space for growth in your home or business? Our Reinickendorf location offers plenty of space across four floors. Rent one of our 700 secure, clean and convenient storage units and enjoy the freedom of extra space!
Self Storage in Berlin Reinickendorf: These Are the Benefits
Simply book one of our storage units online or on-site at the Berlin Reinickendorf location and enjoy the following benefits:
Video-monitored car storage: Looking to park your second car, trailer, camper, motorcycles, or classic cars in a monitored parking space? In Berlin Reinickendorf, you can rent an affordable and secure parking spot with a 1-week cancellation period.
Extra insurance: We make sure your stored items are as safe as can be. Our affordable unit insurance additionally covers damages caused by fire, burglary, vandalism, water damage, and natural disasters.
24/7 outdoor units: At the Berlin Reinickendorf location, we offer the option to rent outdoor external units, which are accessible around the clock.
Renting compact boxes: Our compact 1m³ boxes are the perfect storage solution if you only need to store a few small items.
Spacious loading area: With the generous loading area and easy parking lot access even for bigger vehicles, loading and unloading items becomes a breeze.
Well-lit, short transport routes: At our Reinickendorf location in Berlin, the storage units are only a short distance away from the parking lot and accessible via barrier-free, well-lit routes for safe transport at all times of day.
Freight lifts: Three spacious freight lifts, as well as dollies and pallet jacks, ensure fast and convenient transport, removing the stress from loading and unloading items.
Self Storage Costs & Rental Period
Rental is at a fixed price and is billed every four weeks. The costs of our storage compartments vary according to size and availability. Here you will find a general overview of our prices at the Berlin Reinickendorf location: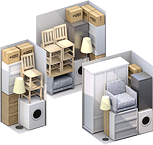 Small, 1-3 m2
from 15,30 EUR per week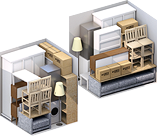 Medium, 3-5 m2
from 36,53 EUR per week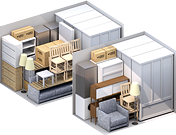 Large, 5-10 m2
from 50,25 EUR per week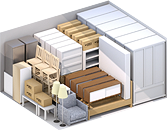 XL, 10-20 m2 only a few available
from 93,71 EUR per week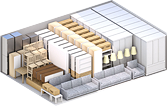 XXL, 20-50 m2 only a few available
from 195,24 EUR per week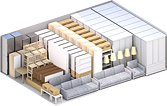 XXXL, >50 m2 currently unavailable
Rental can start at any time. The minimum term is 2 weeks, the remaining term of the lease can be customized to your needs and can be terminated on a weekly basis. We at MyPlace SelfStorage greatly value long-term relationships with our customers and reward the loyalty of our long-term tenants with a discount of -15 % on the annual rent (in case of prepayment).
A detailed list of available warehouse sizes and costs can be found in the next step of our easy booking process.
Directions to Our Storage Facility in Berlin Reinickendorf
Getting to our storage facility at Markstraße 11 is easy. These are the public transport routes to reach us:
via U8 (Franz-Neumann-Platz station)
via U9 (Osloer Straße station)
by bus lines 128, 250, or 327 (Markstraße/Residenzstraße stop)
by tram lines 50 or M13 (Louise-Schroeder-Platz)
If you are arriving by car or truck, we recommend these routes?
coming from the north via Residenzstraße
coming from the city center via Seestraße, Osloer Straße, and Reinickendorfer Straße
coming from Kurt-Schumacher-Damm via Gotthardstraße and Holländerstraße
Parking at our Berlin Reinickendorf location is of course free - we want you to be able to focus on your move or the storage of your items without having to worry about finding a parking space.
Opening Hours
The MyPlace SelfStorage facility in Berlin Reinickendorf is open every day from 06:00 to 22:00. Our convenient external units are accessible 24/7.
You can enter the building using your individual access code, which you can set during the booking process.
Our storage professionals are available to assist you on-site, by phone, or via email from Monday to Friday, from 08:30 to 17:30, and on Saturdays from 09:00 to 13:00.
Any Questions?
With our helpful storage unit calculator, you can determine the right size for your storage unit in just a few clicks. For detailed advice, you can contact our experienced team by phone. We are happy to help you find solutions for all your storage needs. Our team can also introduce you to our additional services, such as moving assistance or package acceptance.
Our services in Berlin Reinickendorf
Satisfied customers in Berlin Reinickendorf
from 213 reviews
Sehr guter und netter Service. Hilfsbereit und kompetent. Rundum zufrieden.
Great service, very easy process and super friendly staff. Highly recommend!
Show all reviews