Rent Storage in 60314 Frankfurt Ostend
Rent a Self Storage Unit on Hanauer Landstraße and Create Space for Growth!
Personal consulting
Available now, flexible durations
All-round service
Parking lot
Our 260 perfectly secured and clean storage units on Hanauer Landstraße in Frankfurt Ostend are the ideal new home for all the things you would like to store flexibly and conveniently near you. Whether it's household items, winter or summer tires, sports equipment, or furniture - we have the perfect solution for your storage needs.
Self Storage on Hanauer Landstraße: Enjoy the Benefits
Simply book one of our storage units online or on-site at the Frankfurt Ostend location and benefit from the following advantages:
Extra insurance protection: We do everything to protect your stored goods and shield them from prying eyes. Our affordable compartment insurance also covers damages caused by fire, burglary, vandalism, water damage, and natural disasters.
Convenient drive-in and loading area: Our location offers a generously sized drive-in and loading area, ensuring smooth and stress-free loading and unloading of your storage items.
Barrier-free transport: The location on Hanauer Landstraße 202 is designed with accessibility in mind, allowing customers with mobility impairments to easily and safely store their belongings.
Freight elevator & car ramps: For easy access and convenient use of your storage unit, this location provides a cargo elevator as well as car entrance and exit ramps to all levels.
Self Storage Costs & Rental Period
Rental is at a fixed price and is billed every four weeks. The costs of our storage compartments vary according to size and availability. Here you will find a general overview of our prices at the Frankfurt Ostend location: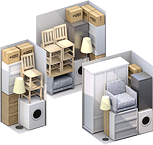 Small, 1-3 m2
from 9,33 EUR per week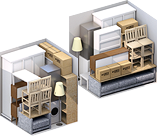 Medium, 3-5 m2
from 23,69 EUR per week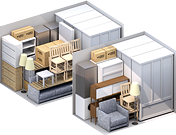 Large, 5-10 m2
from 35,82 EUR per week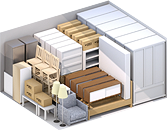 XL, 10-20 m2
from 75,31 EUR per week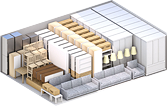 XXL, 20-50 m2
from 113,49 EUR per week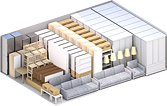 XXXL, >50 m2 currently unavailable
Rental can start at any time. The minimum term is 2 weeks, the remaining term of the lease can be customized to your needs and can be terminated on a weekly basis. We at MyPlace SelfStorage greatly value long-term relationships with our customers and reward the loyalty of our long-term tenants with a discount of -15 % on the annual rent (in case of prepayment).
A detailed list of available warehouse sizes and costs can be found in the next step of our easy booking process.
Directions to Our Storage Facility in Frankfurt Ostend
Our location is situated on Hanauer Landstraße 202 and is well-connected to the public transportation network. We recommend the following route to reach us:
Take the S-Bahn lines S1, S2, S3, S4, S5, S6, S7, S8, S9 to Ostendstraße (EZB), then take tram 11 to Schwedlerstraße - walk to the right on Schwedlerstraße, then left on Lindleystraße, and after 300 meters, you will be at our location.
For those arriving by car or moving vehicle, the easiest route is as follows:
From the city center, head towards EZB via Hanauer Landstraße, turn right at Osthafenplatz. In the roundabout, take the second exit onto Lindleystraße.
From the A661 from Darmstadt/Egelsbach, cross the Kaiserleibrücke - take the Bornheim/Eissporthalle exit. Turn left at the traffic lights onto Hanauer Landstraße. After 350 meters (before the Porsche Center), turn left onto Intzestraße, and after 500 meters, turn right onto Lindleystraße.
Parking is available free of charge, saving you the hassle of searching for parking and facilitating the loading and unloading of your items.
Opening Hours
The MyPlace SelfStorage facility in Frankfurt Ostend is open every day from 06:00 to 22:00.
You can enter the building with your individual access code, which you can set during the booking process.
Our team is available to assist you personally, by phone, or via email from Monday to Friday, 08:30 to 17:30, and on Saturdays from 09:00 to 13:00.
Any Questions?
Try out our convenient storage space calculator - it will help you determine the right storage size for your belongings in just a few clicks. Contact us by phone for comprehensive advice or visit us for a personal consultation. We take the time to address all your concerns and are happy to introduce you to our helpful additional services.
Our services in Frankfurt Ostend
Satisfied customers in Frankfurt Ostend
from 21 reviews
The service of staff in the facility in Frankfurt Ostend was superb. We can fully recommend it. One thing that would be nice to have is onsite free WiFi, but we were assured that it will be installed soon. 5 stars!
Frau Diehl ist eine erstklassige Mitarbeiterin dieses Unternehmens. Auch in zeitkritischen Angelegenheiten wurden alle wünsche zu meiner vollsten Zufriedenheit erledigt. Vielen Dank für alles Frau Diehl!
Alle Bewertungen anzeigen