Self Storage in 60487 Frankfurt Bockenheim
More Space in no Time – Rent a Self Storage Unit in Frankfurt Bockenheim.
Personal consulting
Available now, flexible durations
All-round service
Parking lot
Whether you're looking for a temporary storage solution during a move or a long-term storage option for your goods, tools and business documents, we will help you find the solution that works best for you! At our Frankfurt Bockenheim location, we offer around 1,150 secure and clean storage rooms for both personal and business use.
Storage Units in Frankfurt Bockenheim: Enjoy the Benefits
Simply book one of our self storage units on-site at the Frankfurt Bockenheim location or online and take advantage of the following benefits:
Secure car storage: At the Frankfurt Bockenheim location, you can park your second car, trailer, motorhome, motorcycles, and more in a secure, video-monitored parking spot in the short or longer term. 
Extra insurance: We do everything to protect your stored goods and shield them from prying eyes. Our affordable compartment insurance additionally covers damages caused by fire, burglary, vandalism, water damage, and natural disasters.
24/7 outdoor units for rent: Our convenient outdoor units provide you with access to your stored items around the clock.
1 m³ compact boxes: Rent practical storage boxes in the size of 1 m³ for storing small quantities of items.
Drive-in and loading area: Our location offers a generously sized drive-in and loading area to ensure smooth and stress-free loading and unloading of your items.
Well-lit, short transport routes: At our location in Ludwig-Landmann-Straße 371, you will find well-lit and short transport routes, which ensure safe and easy transport of your items to your storage unit at all times of day.
Two spacious freight elevators: The location is equipped with two spacious freight elevators that facilitate the loading and unloading of items. This way, you can easily store and transport heavy and bulky items without any problems.
Self Storage Costs & Rental Period
Rental is at a fixed price and is billed every four weeks. The costs of our storage compartments vary according to size and availability. Here you will find a general overview of our prices at the Frankfurt Bockenheim location: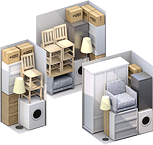 Small, 1-3 m2 only a few available
from 12,23 EUR per week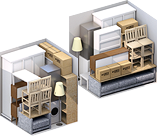 Medium, 3-5 m2 only a few available
from 31,09 EUR per week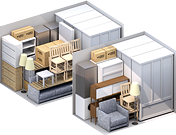 Large, 5-10 m2 only a few available
from 47,33 EUR per week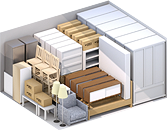 XL, 10-20 m2
from 61,00 EUR per week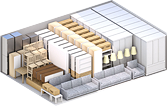 XXL, 20-50 m2
from 90,04 EUR per week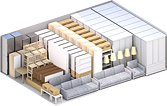 XXXL, >50 m2 currently unavailable
Rental can start at any time. The minimum term is 2 weeks, the remaining term of the lease can be customized to your needs and can be terminated on a weekly basis. We at MyPlace SelfStorage greatly value long-term relationships with our customers and reward the loyalty of our long-term tenants with a discount of -15 % on the annual rent (in case of prepayment).
A detailed list of available warehouse sizes and costs can be found in the next step of our easy booking process.
Directions to Our Storage Facility in Frankfurt Bockenheim
Thanks to its convenient location at Ludwig-Landmann-Straße 371, our Frankfurt Bockenheim facility can be easily reached via public transport:
via U7 (Fischstein stop)
via U6 (Industriehof stop)
via bus lines M34 and M72 (Sternbrücke stop)
For those arriving by car or van, we recommend taking the A66 exit at Ludwig-Landmann-Straße.
Parking spaces on our premises are available to you free of charge. This way, you can park directly in front of the storage facility, easily store your belongings without wasting precious time and energy, and avoid exorbitant parking fees.
Opening Hours
The MyPlace SelfStorage facility in Frankfurt Bockenheim is open every day from 06:00 to 22:00. Our convenient outdoor units are accessible 24/7.
You can enter the building with your individual access code, which you can set during the booking process.
Our team is available to assist you in person, by phone, or via email from Monday to Friday from 08:30 to 17:30, and on Saturdays from 09:00 to 13:00.
Did We Answer All of Your Questions?
If not, our convenient storage space calculator can help you determine the right compartment size for your belongings. Additionally, our experienced staff is available to answer all of your questions and provide information about our range of additional services. Whether you want to know how to properly store books or clothing or if you need package receiving or transportation services - we are here to help you solve your storage problems quickly and efficiently.
Our services in Frankfurt Bockenheim
Satisfied customers in Frankfurt Bockenheim
from 271 reviews
Alles Top!! Danke MyPlace.
super Lager, gute Anbindung, Top Servive, alles sicher und trocken. Wir sind sehr zufrieden.
Show all reviews