Self Storage 10249 Berlin Friedrichshain
Rent a Self Storage Unit in Berlin Friedrichshain and Give Your Belongings a Temporary New Home.
Personal consulting
Available now, flexible durations
All-round service
Parking lot
Do you need more space for household items, furniture, tires or fitness equipment? Are you looking for an affordable and flexible storage option for items you rarely use? At our Berlin Friedrichshain location, we offer 1,050 clean, secure and temperature-controlled storage units on 6 floors that fulfill all requirements to keep your belongings in mint condition for later retrieval.  
Self Storage in Berlin Friedrichshain: Enjoy the Benefits
Simply book one of our storage units online or on-site at the Landsberger Allee 63 location and benefit from the following advantages:
Secure car storage: At the Berlin Friedrichshain location, we offer video-monitored parking spaces for storing second cars, trailers, campers, motorcycles, and vintage cars.
Extra insurance: Our top priority is to protect your stored goods optimally and keep them out of unwanted sight. Therefore, we offer cost-effective unit insurance that covers damages caused by fire, burglary, vandalism, water damage, and natural disasters.
24/7 access to outdoor units: Our well-secured outdoor units are accessible to you around the clock, providing maximum flexibility.
1m³ compact boxes: Rent practical storage boxes with a size of 1m³ when you only have a few items to store.
Large loading area: At the Berlin Friedrichshain location, you have plenty of space to load and unload your belongings. This way, you won't waste time on having to maneuver your truck into a small parking space and can easily and quickly store your goods.
Barrier-free transport: The building is made accessible to all of our customers, and the short distance between parking and the units allows for quick, easy and safe storage.
Freight elevators: Two spacious freight elevators facilitate the quick and comfortable transport of goods, making it easy to store large and bulky items.
Self Storage Costs & Rental Period
Rental is at a fixed price and is billed every four weeks. The costs of our storage compartments vary according to size and availability. Here you will find a general overview of our prices at the Berlin Friedrichshain location: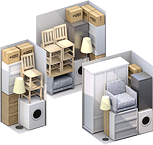 Small, 1-3 m2 only a few available
from 29,96 EUR per week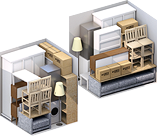 Medium, 3-5 m2
from 31,99 EUR per week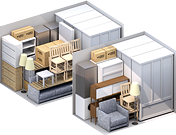 Large, 5-10 m2
from 51,05 EUR per week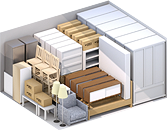 XL, 10-20 m2 only a few available
from 93,94 EUR per week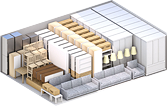 XXL, 20-50 m2 currently unavailable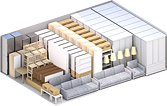 XXXL, >50 m2 currently unavailable
Rental can start at any time. The minimum term is 2 weeks, the remaining term of the lease can be customized to your needs and can be terminated on a weekly basis. We at MyPlace SelfStorage greatly value long-term relationships with our customers and reward the loyalty of our long-term tenants with a discount of -15 % on the annual rent (in case of prepayment).
A detailed list of available warehouse sizes and costs can be found in the next step of our easy booking process.
How to Reach Our Storage Facility in Berlin Friedrichshain
We also excel in terms of location: the Landsberger Allee 63 is well-connected to the public transport network. To reach our location, you can take:
tram lines M5, M6, M8, or M10 (stop: Landsberger Allee/Ecke Petersburger Straße) following a short walk towards Friedrichshain hospital.
For those arriving by car or a transport vehicle, the following route is recommended:
via Landsberger Allee: You will find us between Friedrichshain hospital and the Friedrichshain sports and recreation center (SEZ), across from Richard-Sorge-Straße.
You can park for free directly in front of our Berlin Friedrichshain location, which allows for quick and efficient storage of your belongings.
Opening Hours
The MyPlace SelfStorage facility in Berlin Friedrichshain is open every day from 06:00 to 22:00. Our convenient outdoor units are accessible 24/7.
You can enter the building with your individual access code, which you can set during the booking process.
Our team is available in person, via phone, or via email from Monday to Friday from 08:30 to 17:30, and on Saturdays from 09:00 to 13:00.
Any Questions?
For example, regarding the right storage unit size for your belongings? Our storage unit calculator is the quickest way to find out, how much space your items will need. For a more in-depth consultation on our service offers (including insurance, package acceptance, and our other additional services), feel free to call us during office hours or get advice from our experienced team on-site.
Our services in Berlin Friedrichshain
Satisfied customers in Berlin Friedrichshain
from 243 reviews
Sehr zufrieden, kann ich nur weiterempfehlen ✅
Das Lager ist gut gelegen, leicht zugänglich und sehr sauber. Die Mitarbeiter vor Ort sind sehr freundlich.
Show all reviews