Storage Units in Berlin Mariendorf
Running Out Of Room? Rent a Self Storage Unit in Berlin Mariendorf and Enjoy the Extra Space
Personal consulting
Available now, flexible durations
All-round service
Parking lot
Get organised, declutter your home and make room for new things by storing tools, wares, old children's items, or clothing in one of our 800 secure, clean, and climate-controlled storage units at Lankwitzer Straße 25. Solving your storage problems is our area of expertise at MyPlace Berlin Mariendorf!
Discover the MyPlace Storage Benefits:
You can quickly and easily book one of our storage units online or on-site at the Berlin Mariendorf location and benefit from the following advantages:
Optimally protected compartments: We do everything we can to protect your stored goods and shield them from prying eyes. Our affordable compartment insurance additionally covers damages caused by fire, burglary, vandalism, water damage, and natural disasters.
Outdoor units with 24/7 access: Our well-secured outdoor units are accessible to you around the clock for maximum flexibility.
Spacious drive-in and loading area: Our location at Lankwitzer Straße offers a generously sized drive-in and loading area to ensure smooth and stress-free loading and unloading of your stored items.
Barrier-free transport: Our location in Berlin Mariendorf is barrier-free, allowing customers with limited mobility to store their items easily and safely.
Freight elevators: Two spacious freight elevators ensure fast and convenient transport, making it easier to load and unload items, no matter how heavy or bulky they may be. 
Self Storage Costs & Rental Period
Rental is at a fixed price and is billed every four weeks. The costs of our storage compartments vary according to size and availability. Here you will find a general overview of our prices at the Berlin Mariendorf location: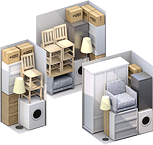 Small, 1-3 m2
from 13,43 EUR per week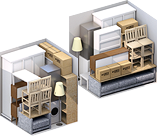 Medium, 3-5 m2
from 31,94 EUR per week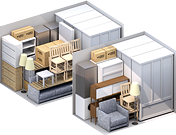 Large, 5-10 m2
from 45,72 EUR per week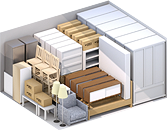 XL, 10-20 m2
from 80,31 EUR per week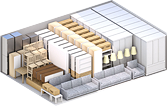 XXL, 20-50 m2 only a few available
from 147,10 EUR per week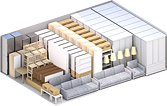 XXXL, >50 m2 currently unavailable
Rental can start at any time. The minimum term is 2 weeks, the remaining term of the lease can be customized to your needs and can be terminated on a weekly basis. We at MyPlace SelfStorage greatly value long-term relationships with our customers and reward the loyalty of our long-term tenants with a discount of -15 % on the annual rent (in case of prepayment).
A detailed list of available warehouse sizes and costs can be found in the next step of our easy booking process.
Directions to Our Storage Facility in Berlin Mariendorf
You can find our location in Berlin Mariendorf on Lankwitzer Straße 25. There are several public transport stops close by and you can reach us via:
subway line U6 (Alt-Mariendorf station)
bus lines 181, 277, or M77 (stop: Friedenstraße/Großbeerenstraße).
By car or van, the easiest route is as follows:
from Tempelhof, take Mariendorfer-Damm and Alt-Mariendorf until you reach Lankwitzer Straße.
At our Berlin Mariendorf location, you can park free of charge. That way you don't have to go through a tedious hunt for a parking spot, but can start storing your items right away.
Opening Hours
The MyPlace SelfStorage facility at Lankwitzer Straße 25 is open every day from 06:00 to 22:00. Our convenient outdoor units are accessible 24/7.
You can enter the building using your individual access code, which you can set during the booking process.
Our team is available to assist you in person, by phone, or via email from Monday to Friday, 08:30 to 17:30, and on Saturdays from 09:00 to 13:00.
Any Questions?
What is the ideal storage unit size for your items? Do we offer transport or moving assistance? Can I insure my stored goods? How do I properly store my belongings? Our experienced team has the answer to all of these questions. For a quick overview of our storage unit sizes and an estimation of the right dimensions for your needs, you can use our storage unit calculator.
Our services in Berlin Mariendorf
Satisfied customers in Berlin Mariendorf
from 248 reviews
Sehr gute Organisation beim Auszug. Meyer
Alles war super und die Frau Müller war ein Engel, hat mich sehr gut beraten und mir bei meiner Entscheidung geholfen. Ich war sehr zufrieden, ich danke Ihnen nochmal. Der Hausmeister war auch top ! Hat mir mit meinen Schrank geholfen, vielen Dank nochmal. Kann ich nur weiterempfehlen!!!
Show all reviews