Self Storage in Offenbach
Get Plenty of Additional Space Paired with Optimal Storage Conditions - Book Your Storage Unit Today!
Personal consulting
Available now, flexible durations
All-round service
Parking lot
Your hobbies, your business, or your family suddenly need more space than anticipated? You need a fast, flexible, and secure way to store your belongings? At our facility in Offenbach am Main, your furniture, sports equipment, children's toys, documents, and much more will find a new temporary home. Across nine floors, we offer 650 modern, secure, and clean storage units.
Advantages of MyPlace Storage Solutions
Simply book one of our storage units at the Kaiserleistraße location online or on-site and benefit from the following advantages:
Extra unit insurance: Our top priority is to protect your stored goods optimally and keep them out of unwanted sight. Therefore, we offer cost-effective unit insurance that covers damages caused by fire, burglary, vandalism, water damage, and natural disasters.
Compact boxes: Our convenient 1 m³ storage boxes are ideal for storing smaller quantities of items.
Big drive-in and loading area: Our location provides a generously sized drive-in and loading area to ensure smooth and stress-free loading and unloading of your stored goods.
Barrier-free access routes: Our Kaiserleistraße location features barrier-free access routes, allowing you to store your items easily and securely.
Two spacious freight elevators: The location is equipped with two spacious freight elevators that facilitate the loading and unloading of items. This allows you to store and transport heavy and bulky items without any problems.
Self Storage Costs & Rental Period
Rental is at a fixed price and is billed every four weeks. The costs of our storage compartments vary according to size and availability. Here you will find a general overview of our prices at the Offenbach am Main location: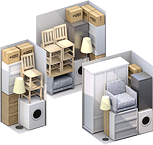 Small, 1-3 m2
from 10,90 EUR per week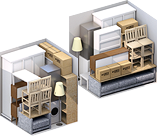 Medium, 3-5 m2
from 23,47 EUR per week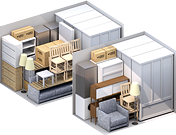 Large, 5-10 m2
from 33,44 EUR per week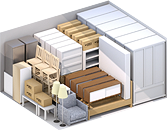 XL, 10-20 m2 only a few available
from 111,65 EUR per week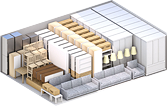 XXL, 20-50 m2
from 118,00 EUR per week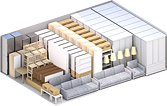 XXXL, >50 m2 currently unavailable
Rental can start at any time. The minimum term is 2 weeks, the remaining term of the lease can be customized to your needs and can be terminated on a weekly basis. We at MyPlace SelfStorage greatly value long-term relationships with our customers and reward the loyalty of our long-term tenants with a discount of -15 % on the annual rent (in case of prepayment).
A detailed list of available warehouse sizes and costs can be found in the next step of our easy booking process.
How to Get to Our Storage Facility in Offenbach am Main
Our location at Kaiserleistraße 44 and has excellent access to public transportation. If you want to take public transport, we recommend the following lines:
S-Bahn lines S2 or S9 (Offenbach (Main) Kaiserlei station)
bus lines 102, 104, or 108 (Kaiserlei Fachackerweg stop)
Convenient access by car or truck is possible using the following route:
Take the A661 (Offenbach Kaiserlei exit). From there, head towards F-Sachsenhausen/F-Oberrad, and after the McDonald's branch, turn right onto Kaiserleistraße at the first intersection. In the roundabout, take the first exit and you will reach the MyPlace parking lot on the right.
Parking at our Offenbach location is free! Simply park directly infront of the facility and store your belongings in no time.
Opening Hours
The MyPlace SelfStorage facility in Offenbach am Main is open every day from 06:00 to 22:00.
You can enter the building using your individual access code, which you can set during the booking process.
Our team is happy to answer all of your questions you from Monday to Friday from 08:30 to 17:30 and on Saturdays from 09:00 to 13:00, in person, by phone, or via email.
Any Questions?
We are happy to answer all of your questions by phone or during a personal consultation at the location. Do you want to know how to store books, clothes, and other items safely in the long term? Do you need assistance with transportation or moving? We provide competent advice and help you find the best solution! To quickly determine how many square meters of space you should plan for your stored goods, you can use our practical storage space calculator.
Our services in Offenbach am Main
Satisfied customers in Offenbach am Main
from 188 reviews
Sehr saubere, trockene Anlage. Viele verschiedene Größen zu einem guten Preis. Freundliches Personal. Danke!
Wir brauchten einen Lagerraum fuer unsere Möbel und Umzugskartons fuer 6 Monate nach dem Umzug aus Kalifornien. Das Team mit Herrn Pawlak und Fr Hotzelmann war von Anfang an sehr freundlich und hilfsbereit. Sie haben uns top beraten, welcher Tarif am besten sei und welche Angebote zur Verfügung stehen. Mir wurden unterschiedliche Abteile gezeigt und bei der Buchung als auch bei der Anlieferung ging alles problemlos, obwohl wir mehrmals verschieben mussten. Toll ist auch, dass wir jederzeit an das Abteil drankommen, selbst am Wochenende.
Show all reviews