Personal consulting
Available now, cancel weekly
All-round service
Special for annual renters
Our pricing is as flexible as our versatile storage options. Because we understand that every storage need is unique - whether for private individuals or business customers. That's why we offer flexible pricing that allows us to respond to individual requirements and offer fair conditions.
How do we calculate our prices?
The cost of a self-storage compartment varies depending on the size of the compartment, the duration of the rental and the selected location:
size of the storage room
rental period
location
1. Size of the storage unit
The rental price of a storage room at MyPlace SelfStorage depends on its size. Basically, the larger the storage room, the higher the rental price. We offer a variety of storage space sizes, from single item storage boxes to larger spaces for furniture or small commercial storage. Our different compartment sizes allow you to choose the optimal room size for your individual needs. The flexible pricing ensures that you only pay for the storage space you actually need, making storage at MyPlace both cost-efficient and needs-based.
| | |
| --- | --- |
| Compact box | 1 m3 |
| S | 1-3 m2 |
| M | 3-5 m2 |
| L | 5-10 m2 |
| XL | 10-20 m2 |
| XXL | 20-50 m2 |
| XXXL | > 50 m2 |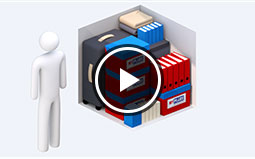 Kompaktbox 1 m³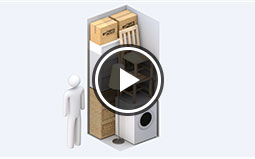 Klein 1-3 m2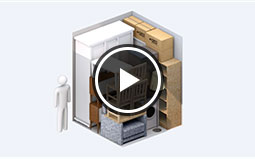 Mittel 3-5 m2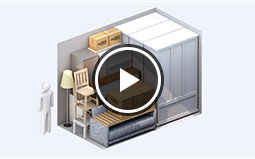 Groß 5-10 m2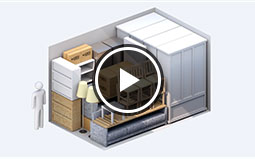 XL 10-20 m2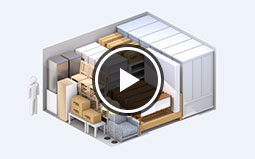 XXL 20-50 m2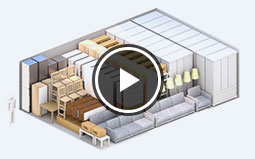 XXXL > 50 m2
2. Rental period
The rental price of a storage space at MyPlace SelfStorage is not only influenced by its size, but also by the chosen rental period, which offers you a flexible and needs-based solution. Depending on whether you only need the storage space for a short time or for a longer period, the costs can be adjusted accordingly: The minimum rental period is only 2 weeks.
Promotions that save real money
At MyPlace SelfStorage, we focus on offering maximum flexibility and customisation. Thanks to our generous 2- or 4-week free promotions, you can benefit from a longer usage period, 4 or 8 weeks respectively. We understand that your requirements may vary, so we allow you to adjust the term to suit your needs.
Long-term rental is being rewarded
In addition, we are particularly happy about long-term agreements and would like to thank you for your loyalty. That's why we offer long-term tenants a 15% discount on the annual rental amount (if paid in advance). This discount is our way of thanking you for your continued support and trust while you benefit from our first-class storage rooms and services.
Termination
Our rental agreements are designed to accommodate you in every respect and are generally indefinite. If you no longer need the storage space, you can terminate the rental agreement weekly by giving a two weeks' notice.
3. Location
Additionally, self-storage costs vary depending on location and individual site conditions. Locations in central or well-connected areas may tend to have slightly higher prices, as they offer convenient access and proximity to different parts of the city and transport routes. Factors such as the size of the city, local demand for storage space and the economic situation also play a role in pricing. In busy urban areas, demand can be higher, which can affect the rental price.
At MyPlace, we aim to offer you competitive and fair prices, regardless of location. Find the best possible storage space according to your needs and budget. We are proud to offer quality storage facilities in a variety of sizes at numerous locations throughout Germany to ensure you find the best solution for your storage needs:
How is the storage rent paid?
The storage rental process at MyPlace SelfStorage is simple and flexible. The rent for your storage space is billed at a fixed price that varies according to compartment size, rental period, location and availability. This billing takes place every four weeks. At the start of the contract, a deposit equivalent to the sum of six weeks' rent is also to be paid. This deposit will be fully refunded to you upon proper return of the storage space. Thus, the costs for taking over a storage compartment are made up of the following components:
1st months' rent
Deposit (six weeks' rent)
Upon conclusion of the rental contract, the first storage rent, the deposit payment and, if applicable, the fee for a storage compartment insurance policy taken out through us are to be paid. This payment can be made conveniently at the selected location in cash or by debit or credit card (MasterCard, Visa, Diners Club). Alternative payment methods such as instant bank transfer or credit card payment are available for convenient online contract processing.
We offer various options for the subsequent rental payments:
Direct debiting system
Bank transfer
Cash payment
Debit or credit card payment
If you have any questions about the exact prices, offers or payment methods, our experienced staff will be happy to help you. You can contact the desired location or our toll-free hotlines:
This is included in the price
There are situations in life when you need more space in your home or business in the short or long term. A storage unit from MyPlace offers you the opportunity to store your personal belongings, tires, files and much more in a safe and orderly manner without having to give up valuable living or working space.
With MyPlace, you don't just get the extra storage space you need, you also get lots of other benefits:
Maximum security: We take the security of stored items very seriously. Our storage facilities are equipped with state-of-the-art security measures such as surveillance cameras, alarm systems and access codes. Our cost-effective compartment insurance covers the rest.
Perfect temperatures: It is not only interpersonally that we create the optimal climate. By constantly measuring and adjusting the temperature and humidity values as well as heating our locations in winter, we ensure perfectly tempered storage compartments.
Flexible access around the clock: Our storage facilities are available to you seven days a week from 06:00 to 22:00. Our practical outdoor compartments are even accessible around the clock under certain conditions.
Included services: In addition to regular storage, we also offer practical additional services that are included in the price. As a MyPlace tenant, for example, you benefit from our free parcel acceptance service, where we are happy to accept deliveries in your absence at any time and store them for you.
Excellent advice directly on site: At MyPlace SelfStorage, your well-being is the focus. Our competent team is not only always available to you by e-mail and telephone, but is also personally there for you at your preferred location. You can rely on our experienced storage experts to answer any questions you may have about your storage space, the right size or useful storage tips. Our top priority is to provide you with a smooth and enjoyable storage experience.
Convenient parking at our locations: We understand that getting to and from your storage facility comfortably is an important consideration. That's why we offer spacious and easily accessible parking spaces at our locations. This means you can park your vehicle free of charge in the immediate vicinity of your storage space and safely load and unload your stored goods without having to walk long distances. Your time is precious, so we do everything we can to make storage as convenient as possible.
In addition to the services included in the price, MyPlace offers numerous services that make your life much easier. These include comprehensive insurance options, professional transport and relocation assistance, high-quality packing materials for secure storage and even the option to rent additional parking spaces. In this way, we ensure that your storage experience at MyPlace is well-rounded and that you can take care of all aspects of your storage worry-free.
Book storage spaces flexibly and cheaply
Find the perfect storage solution for your needs. Whether you need to store furniture, tools, goods for the long term or need to temporarily store items for a short period during a move, at MyPlace SelfStorage we have the ideal solution for you. With our wide range of compartment sizes and flexible rental options, you're sure to find the perfect deal that suits you. From initial consideration to long-term storage of your items, we're with you every step of the way with our expert customer service and our many services. Our secure and easily accessible locations throughout Germany ensure that your belongings are protected and easily accessible at all times. Book your storage space today and look forward to more space and order in your life!