Self Storage in Potsdam
Rent a Storage Unit in the City Center of Potsdam and Enjoy More Space in Your Home or Business.
Personal consulting
Available now, flexible durations
All-round service
Parking lot
Our 500 secure and clean storage units with climate and humidity control in Potsdam City Center are the perfect place for your tools, goods, tires, furniture, files, and more. Whether your apartment is too small for all the boxes after a move or you need to store inventory for your business, we offer a flexible storage solution near you!
Discover the MyPlace Storage Benefits
Book one of our storage units online or on-site at the Potsdam City Center location and benefit from the following advantages:
Secure car storage: Do you want to store cars, trailers, campers, motorcycles, or your vintage cars in a video-monitored parking space? We offer secure and affordable parking options at our location. 
Extra unit insurance: Our highest priority is the protection of your stored items. Therefore, we offer affordable unit insurance that covers damages from fire, burglary, vandalism, water damage, and natural events.
Spacious loading area: The spacious loading area makes loading and unloading items a breeze. You can quickly and easily load and unload your belongings without wasting unnecessary time and energy.
Barrier-free transport: The transport routes at our location on Friedrich-Engels-Straße are short and barrier-free, which makes the storage process easier and safer for our customers.
Two spacious freight elevators: The location has two spacious freight elevators that facilitate the loading and unloading of items. This allows you to store and transport heavy and bulky items without any problems.
Self Storage Costs & Rental Period
Rental is at a fixed price and is billed every four weeks. The costs of our storage compartments vary according to size and availability. Here you will find a general overview of our prices at the Potsdam Innenstadt location: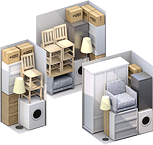 Small, 1-3 m2
from 16,10 EUR per week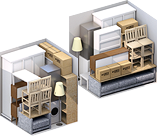 Medium, 3-5 m2
from 26,13 EUR per week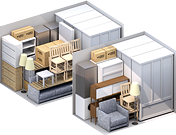 Large, 5-10 m2
from 34,61 EUR per week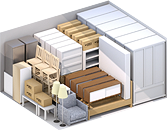 XL, 10-20 m2
from 63,78 EUR per week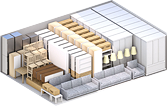 XXL, 20-50 m2
from 138,63 EUR per week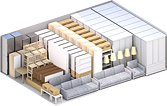 XXXL, >50 m2 currently unavailable
Rental can start at any time. The minimum term is 2 weeks, the remaining term of the lease can be customized to your needs and can be terminated on a weekly basis. We at MyPlace SelfStorage greatly value long-term relationships with our customers and reward the loyalty of our long-term tenants with a discount of -15 % on the annual rent (in case of prepayment).
A detailed list of available warehouse sizes and costs can be found in the next step of our easy booking process.
How to Reach Our Storage Facility in Potsdam City Center
Located centrally in Potsdam City Center, specifically at Friedrich-Engels-Straße 80, you can reach us via different means of public transport. We recommend taking the following lines:
All tram and bus lines as well as regional transit lines to the main train station
Bus lines 601, 690, and 694 to the Schlaatzstraße stop
You can also arrive by car or van. We recommend the following routes:
Coming from Leipziger Dreieck, turn left after approximately 400 meters
Coming from Babelsberg, turn right after around 300 meters after the MAZ Pyramid
Parking is free at our Potsdam City Center location. This makes loading and unloading your stored items much easier and saves you from having to carry your goods from a far-away parking spot to the storage unit and back.
Opening Hours
The MyPlace SelfStorage facility in Potsdam City Center is open every day from 06:00 to 22:00.
You can enter the building with your individual access code, which you can set during the booking process.
Our team is available Monday to Friday from 08:30 to 17:30 and on Saturdays from 09:00 to 13:00 in person, by phone, or via email.
Any Questions?
Our experts are happy to address any concerns or questions you may have. Contact us by phone or visit us for a personal consultation. We can also introduce you to our many additional services. Additionally, with our storage space calculator, you can quickly determine how much space you should plan for your stored items.
Our services in Potsdam Innenstadt
Satisfied customers in Potsdam Innenstadt
from 174 reviews
Frau Inter des Potsdamer Teams ist sehr engagiert und immer hilfreich zur Stelle wenn man Fragen hat oder Hilfe benötigt. Nicht selbstverständlich in der Servicewüste Deutschland. Auch mit der Qualität der Einlagerung bin ich zufrieden, Staub hatte ich nach 1,5 Jahren überhaupt nicht in meiner Box. Textilien sollte man allerdings gut in Folie Verpacken, ich hatte ein paar kleine Motten die glücklicherweise nicht weiterkamen als die Folie.
Kompetente Beratung im Vorfeld Problemlose Anmietung Gut gesicherter, aber leicht zu verstehender Zugangsprozess
Show all reviews